Show Photos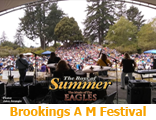 Click Photo to Enlarge
Photo Gallery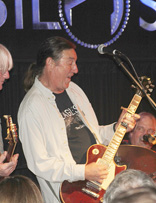 Tour Dates
2018 Shirts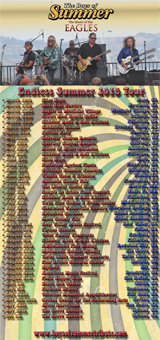 Click Photo to Enlarge
Audio Player
Boys of Summer Tribute
Petty vs. Eagles
Video Promo
About the Boys
The Boys of Summer make their home in different parts of the US. They re-create some of the greatest music ever written. With well over 400 high profile shows throughout the U.S. since 2004, BOS are becoming known as the top touring Eagles Tribute band in America.
The Eagles themselves sold over 120 million albums worldwide, and their music brings instant fond memories to the millions who bought their records and attended their concerts. Get on down to one of their shows, and you'll likely find yourself thinking the same as thousands before you. "Close your eyes, and you're there".
The Greatest Hits The BOS Play
- All She Wants To Do Is Dance
- Already Gone
- Best Of My Love
- Boys Of Summer
- Desperado
- Dirty Laundry
- End Of The Innocence
- Get Over It
- Heart Of The Matter
- Heartache Tonight
- Hotel California
- How Long
- In The City
- James Dean
- Last Resort
- Life In The Fast Lane
- Lyin Eyes
- Ole' 55
- On The Border
- One Of These Nights
- New York Minute
- Party Town
- Peaceful Easy Feeling
- Rocky Mountain Way
- Sad Cafe
- Seven br /idges Road
- Sunset Grill
- Take It Easy
- Take It To The Limit
- Taking You Home
- Tequila Sunrise
- Victim Of Love
- Wasted Time
- Witchy Woman
And Many More!