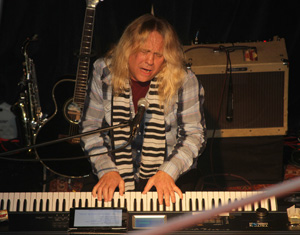 Chris Turbis: Keyboards, Guitars, Vocals

- Login Required -
Chris is our Piano, Orchestra, Guitar and Banjo Player who even plays a little Sax! He's our resident wild man, and when he's not out on the road, he keeps busy as a Location Chef in the TV & Film Industry.
Classically trained on the piano from very early childhood, he's played and toured in various bands including The Regulators, Alligator Stew, Wyldsky, Kelli & The ShadowMen, and his rock'n'roll life started somewhere on the Sunset Strip back in the early 80's. Some of the awards he's won are Best Keyboard Player 2004 in the AAMA Awards, & Video of the Year 2004.
He has as well been in direct support bands for acts such as Lynyrd Skynyrd, The Allman Brothers, Motley Crue, Blue Oyster Cult, The Guess Who, Great White, Poison, Delbert McClinton, Rare Earth, Ted Nugent, Marshall Tucker Band, & many more...