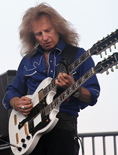 David A. Williams: Lead Guitar, Vocals
As a seasoned pro, David A. not only brings years of guitar playing experience to BOS but also years of playing in tribute bands. David A. has been in tributes to Deep Purple (Deep In Purple), Bad Company (Badass Company) and most notably the Rolling Stones (Sticky Fingers/Hollywood Stones). He channels the look, spirit and vibe of the original artists, while breathing some fresh fire into the classic artists he is paying tribute to with the music. David A. is also an excellent driver.
He has shared the stage with Eric Burden, Billy Squier, Bernard Fowler and Slash.